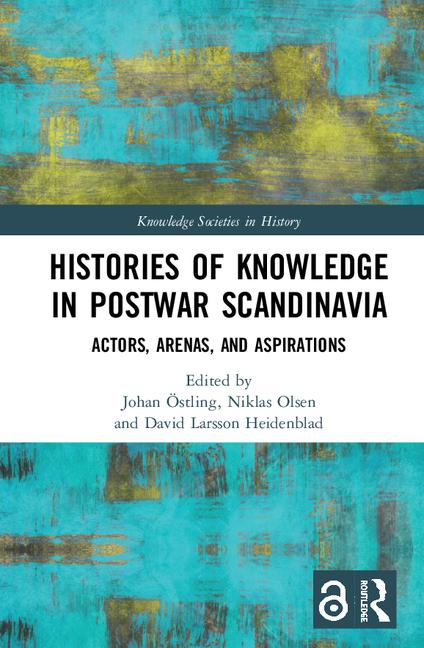 In the late 1960s and early 1970s, researchers and intellectuals started claiming that the West had entered a new stage beyond industrial society. Gradually, the concept of "the knowledge society" took a special hold in postwar Scandinavia, with its particular emphasis on rational planning and apolitical expertise. But what was the place and significance of knowledge in this society that was beginning to refer to itself as a knowledge society? How was knowledge made, negotiated, circulated, contested, and used? By which means did it shape politics, economics, social, and cultural life?
These questions reside at the core of the new book Histories of Knowledge in Postwar Scandinavia: Actors, Arenas, and Aspirations (Routledge, 2020), which gathers 14 Nordic scholars, four of which partakes in Neoliberalism in the Nordics. As the book focuses chiefly on the 1960s and 1970s, it can in some ways be seen as a prequel to the ongoing research programme. The book is edited by Johan Östling (director of the newly installed Lund Centre for the History of Knowledge: LUCK), Niklas Olsen, and David Larsson Heidenblad. The latter's individual chapters deal with the rise of welfare state criticism as elite criticism in 1970s Denmark (Olsen), and the emergence of environmental journalism in 1960s Sweden (Larsson Heidenblad).
In addition, Orsi Husz contributes with a study of the charismatic entrepreneur Erik Elinder, who strove to destigmatize the use of consumer credits in late 1970s Sweden. Husz chapter directly deals with the financialisation of Scandinavian society, which is a central aspect of the broader process of neoliberalisation. Histories of Knowledge in Postwar Scandinavia also include an epilogue written by Johan Strang, which synthesizes the individual chapters and tentatively labels the 1960s and 1970s in Scandinavia as a particular "knowledge regime": a corporatist model of knowledge. In his forward looking conclusion, Strang stresses that the history of the subsequent period, the Nordic "neoliberal knowledge regime", remains to be written. For such a project, Histories of Knowledge in Postwar Scandinavia provides a great springboard.
The book in its entirety is available Open Access: https://www.taylorfrancis.com/books/e/9781003019275